There will be no school on Monday, January 20th in observance of Martin Luther King Jr. Day.

Report cards will be sent home today.

School resumes back tomorrow, Tuesday, January 7th. Can't wait to see the scholars!

Today Friday, December 20th, is early release. First release will be at 11:35. Second release will be at 11:45. Thank you!

Santa's workshop will be open today during the Christmas performances and parties. It is located in room #24 and will close after school. Please stop by and shop today!

Please remember tomorrow (Friday, Dec. 20) is early release. First release will be at 11:35 and second release will be 11:45. Thank you.

Christmas performances for Friday, December 20th are as follows. 8:30 - Krueger, McBee, Frith, Nardo 9:00 - Montanez, Vaughan, Graham 9:30 - Judah, Carrasco, Sunico

Christmas performances are today and tomorrow! Thursday, December 19th 8:30 - Yandell, Ortiz, Hagler 9:00 - Kuenzler, Smith, Bell 9:30 - Marable, Montalvo, Hitchcock 10:00 - Arreguin, Shelton, Kimbley 1:00 - Johnston, Johnson, Lucas 1:30 - Saenz, Camargo

The Believe fundraiser items are here! Please come by ECEC tomorrow, Friday December 13th, from 10AM-1PM to pick up items that were ordered. Thank you!

This Friday, December 13th, there will be an Istation Cape Celebration! Scholars that have gone up 4 points will get to wear a cape and receive a special treat.

Thank you R360 for your annual bike donation to some of our students. We appreciate your generosity during the holiday.

We were just informed that Boys and Girls club is closed today, December 10th, please make other arrangements for your child if that's were they go after school.

Our Christmas Music Special is coming up Dec. 19 - Dec. 20. Students are working hard learning their songs. Please get time from your child's teacher.
The next PTA meeting will be Tuesday, December 3rd at 6:00 in the Fiesta Room at ECEC. Ms. Dudley's Polar Bears will be performing.
Carlsbad Municipal Schools is helping to host the "Vaping Me Crazy" Parent Academy on November 14 at the CIS Auditorium. Please see the attached flyer for more information.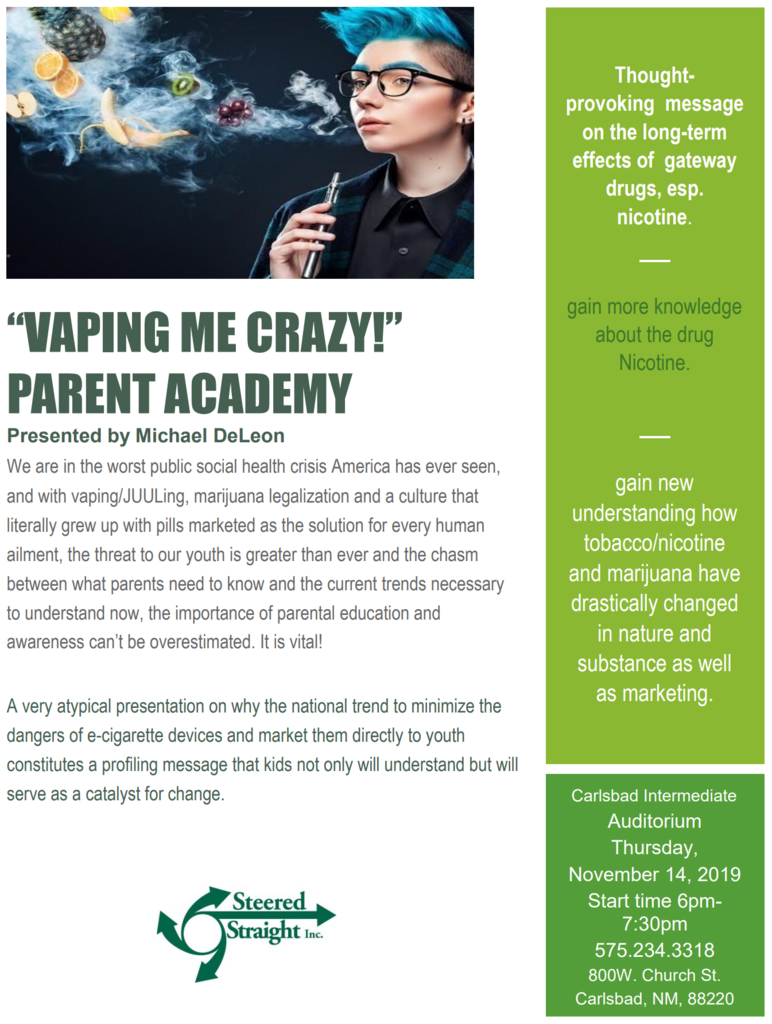 Today's the day! Rock the Vote!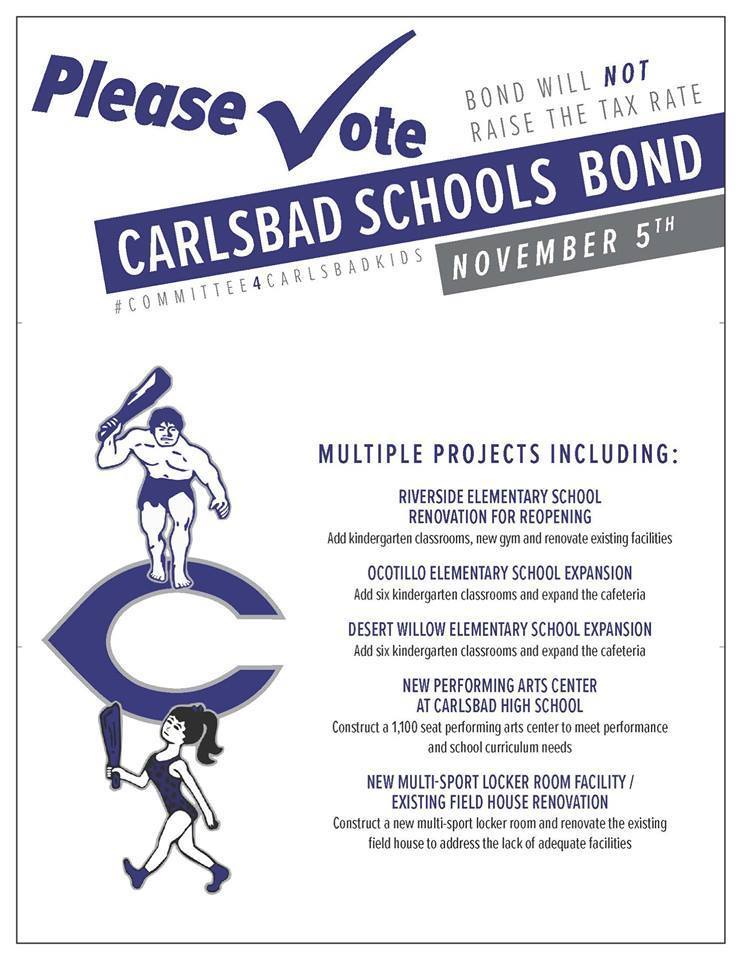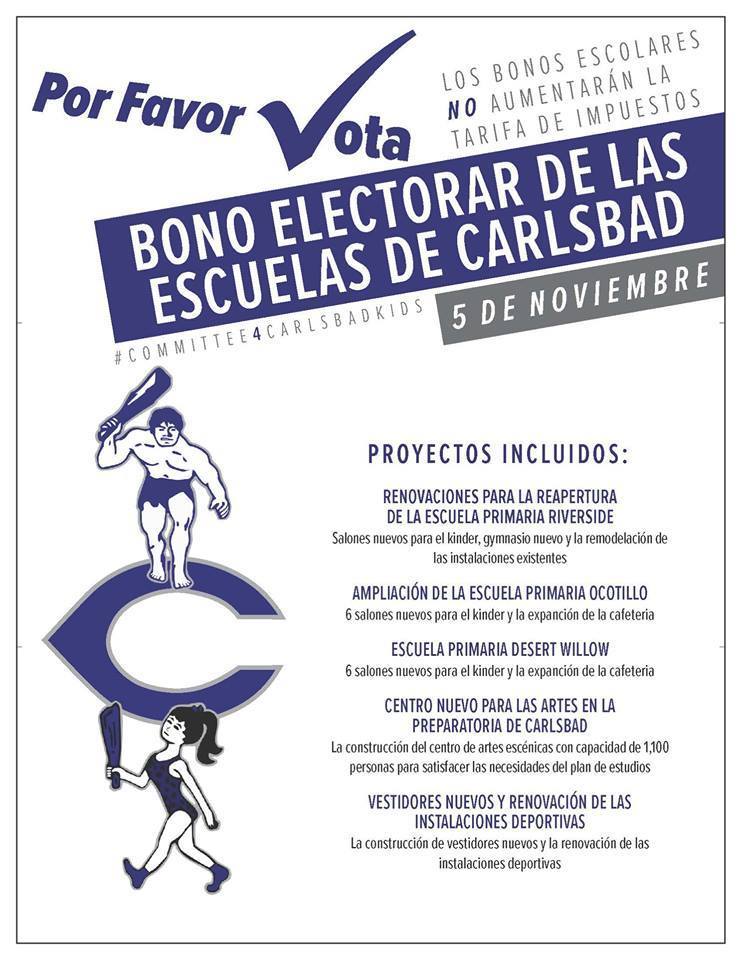 The Carlsbad High School Cheer and Dance Teams will be collecting canned and non-perishable food items for the Operation Hope Thanksgiving Food Drive at the home football game this Friday, November 1. We appreciate all donations which will go to provide food to families in need this holiday season. We thank you for your generosity and also invite you to join us for the game as we battle the Hobbs Eagles and cheer for our Cavemen team!
If you are interested in attending the National Board Certification Jumpstart provided by NEA, please email Ashley Peacock and let her know. You do not have to be a member of NEA to participate in the jumpstart program. We are compiling a list of interested people so that we can get a trainer for our area. The cost is $250 for one but if you bring a friend its $200 each. Non NEA members cost is $850. Please feel free to reach out to Ashley Peacock, if you have any questions, at
Ashley.Peacock@CarlsbadSchools.net
Polar Bears tie dyed some t-shirts for letter Tt and created some spooky pumpkins!