As the Governor released today, she announced that NM students may return to school in a hybrid model beginning February 8th. The goal of Carlsbad Municipal Schools has always been to bring students back to school as quickly and safely as possible. The schools have spent time developing plans to provide in-person instruction as safely as possible for students and staff. While the governor's message is very encouraging, there are many logistical details and PED mandated requirements that the district and schools will need to work through prior to opening. The new eligibility requirements rely on extensive preparation and protocols to ensure the safety of students, school staff, educators, and families. While many of us are anxious to resume in-person learning, we have to do it in a way that allows for the best possibility of returning to an in-person learning environment. We will be meeting and revising plans and processes to meet this goal. Students, staff, parents, and the community at large should not expect a complete return on February 8th. Our return will be measured and thoughtful. In that way, we will not only start in-person learning, but we will also finish it. The details of the plan will be shared throughout the next two weeks. Please check the district website and your campus website for updated information.
ECEC Families, there is no school on Monday, January 18th in observance of the MLK holiday. We will return to our virtual learning at 8:00 am on Tuesday, January 19th. Thank you and have a safe weekend. Mrs. Longbine


Student Immunization Guidance for the 2020/2021 school year.


Good Morning ECEC Families! The staff has started back today and virtual learning for students will resume tomorrow, Tuesday January 5th at 8:00am. We are excited to see all our KinderBears! Thank you Mrs. Longbine
ECEC Families! We hope to see you at the Luminaria Drive-Thru tomorrow, December 17th @ your teachers designated time! You can still drop off your students luminaria in the office today. Also, there will be NO folder pick-up on Friday, December 18th. Our next folder pick-up will be January 8th. We appreciate all your support. Have a Merry Christmas and Happy New Year!
ECEC Luminara Drive-Thru - Thursday, December 17th. Please drop off your child's Luminara Bag today. Thank you for participating in this fun holiday event!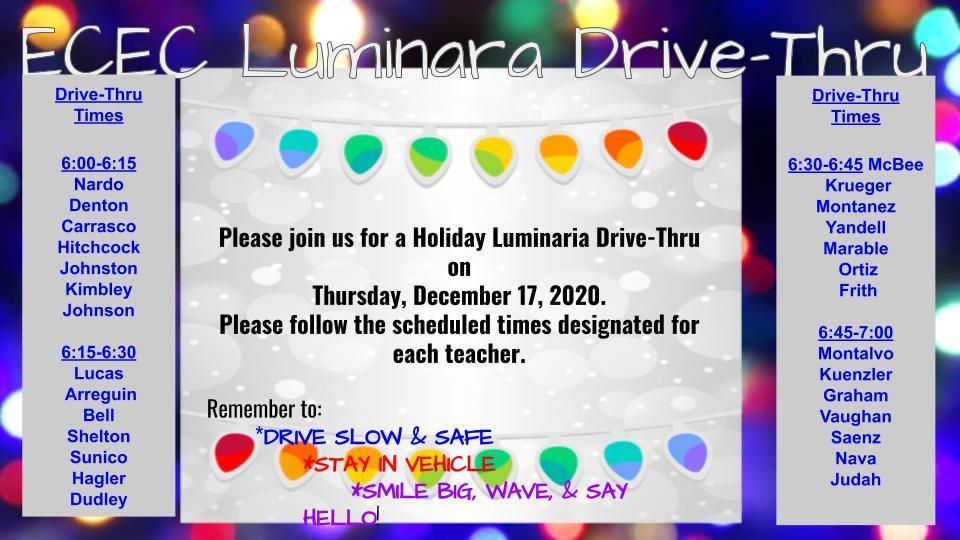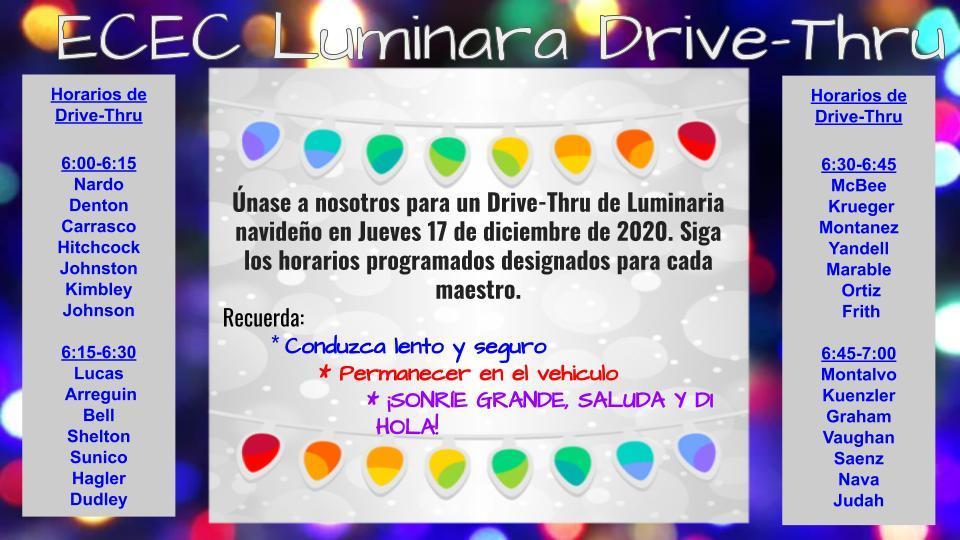 Reminder today is the Roadrunner Food Basket Distribution at CHS. First come first serve December 14th @ 10:30 am pick-up in the CHS student parking lot, enter off of 8th street. Thank you
ECEC Families Roadrunner Food Basket Distribution will be Monday, December 14th @ 10:30 Pick-up in the CHS student parking lot, enter off of 8th street. First come first serve basis and you must have a student enrolled in the Carlsbad schools system. Thank you and stay safe!
ECEC Families attached you will find a Parent Survey for the Spring Semester. Please fill this out only one time for your student attending ECEC. Your child's teacher will also be sending out the Survey. You only need to fil it out 1 time. Thank you so much for your support.
https://forms.gle/BWouui5m7ide4yAPA
Recogida y devolución de bolsas de luminaria ECEC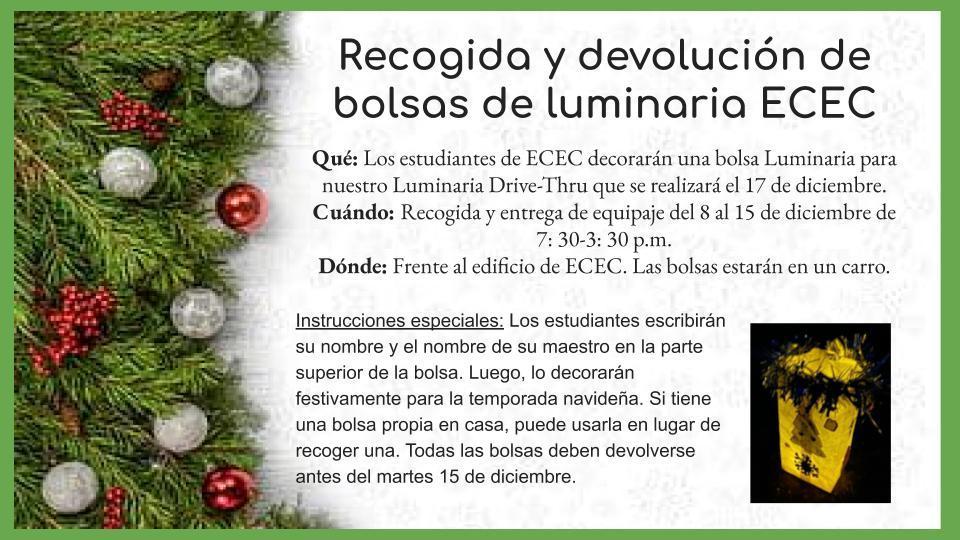 ECEC Luminaria Bag Pick-up and Drop-off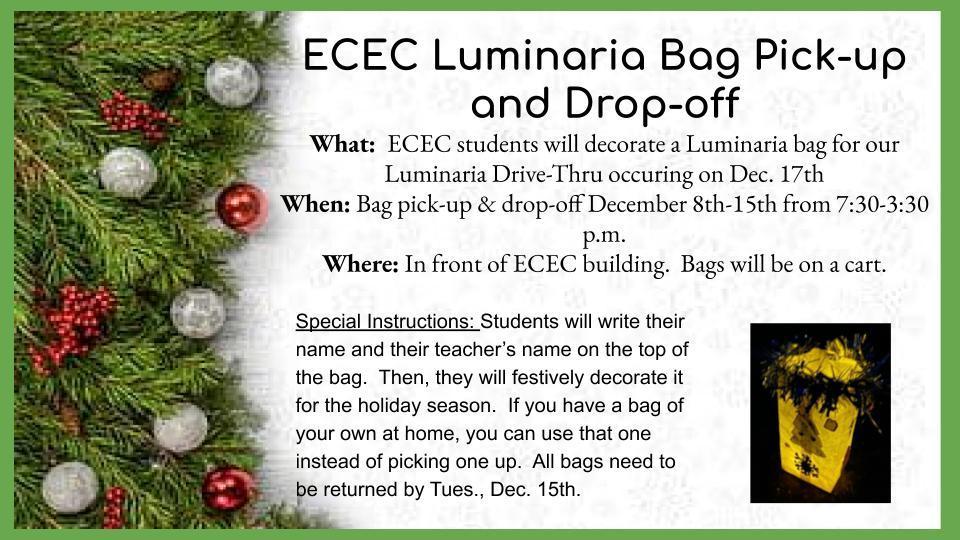 ECEC Families we would like to wish you all a very safe and Happy Thanksgiving. We will return for online learning on Monday, November 30th.
Thank you Substitute Teachers for dedicating your time and talents to servicing our beloved students. You are highly valued and important to our success! Thank you! Thank you! Thank you! #SubstituteEducatorsDay
ECEC Families Roadrunner Food Basket Distribution Friday, November 20th @ 11:00 pick-up. CHS student parking lot, enter off of 8th street. First come first serve basis and you must have a student enrolled in the Carlsbad schools system. Thank you and stay safe!
In honor of American Education Week, ECEC would like to extend their gratitude and appreciation to all our Educational Support Professionals . Thank you for being a partner with us in nurturing and guiding our Kindergarteners! You are vitally important to their success. #EducationalSupportProfessionalsDay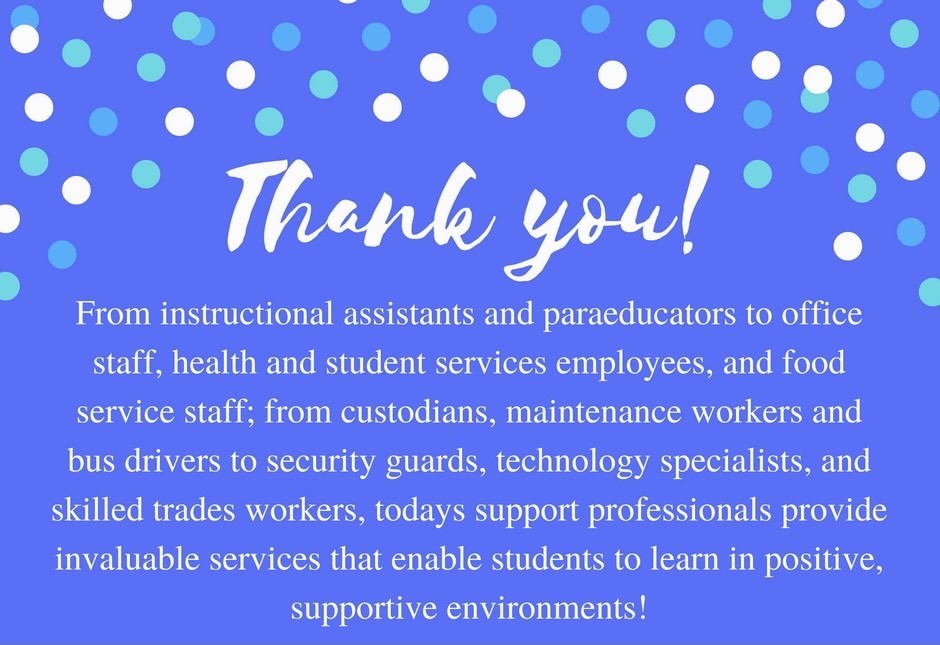 We want to take this time to THANK all of our ECEC Parents and Guardians for your involvement and support in your child's education. Again, Thank you for alll that you do!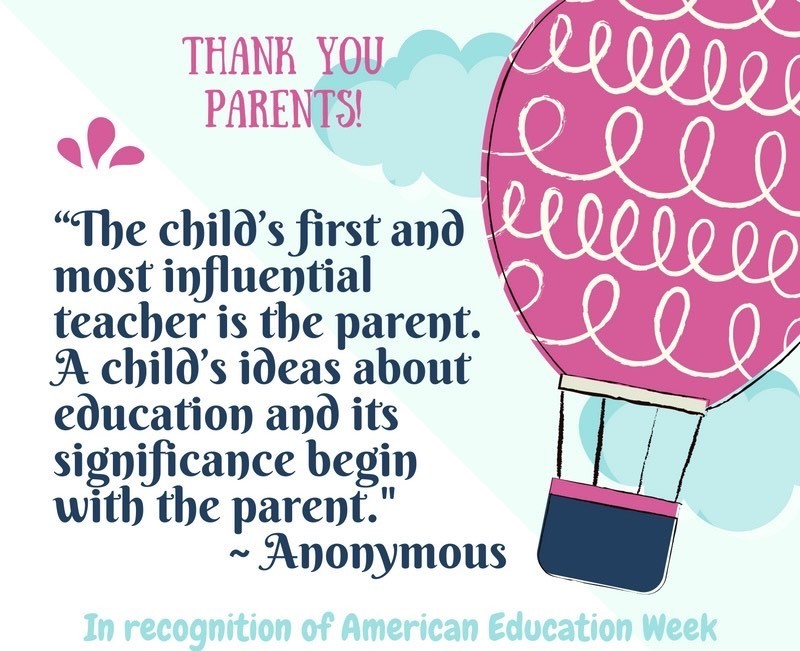 ECEC Families Grab and Go Lunches are available at the front of the school from 9:30-11:00 everyday! Thank you